Congratulations to team rider Brooke Voigt who took 2nd place in the Rail Jam at Billabong's Flaunt It contest at Mount Norquay, AB on the weekend. She also grabbed 5th place in the slopestyle. Brooke is headed for the Flaunt It finals at Blue Mountain this coming weekend (February 20) to take on the east coasts' talent pool.
Check out the full story here: http://www.sbcwomen.com/features
Rail Jam Podium (L:R Brooke Voigt, Christy Prior, Marie-Andree Racine) Photo: Billabong from sbcwomen.com
Brooke getting stylish on the box         Photo: Billabong from sbcwomen.com
Slopestyle Results:
1st Marie-Andree Racine
2nd Sara Niblock
3rd Christy Prior
4th Karen MCnab
5th Brooke Voigt
Rail Jam Results:
1st Christy Prior
2nd Brooke Voigt
3rd Marie-Andree Racine
The 6th annual Nikita Chickita USA 2010 all-girls snowboard contest is nearly here! Taking place this Saturday, February 20th at Brighton resort's Majestic Park in Utah.
Ladies this is open to both amateur and pro riders, all ages and abilities. Up for grabs is a chance to win a one-year Nikita sponsorship for the winner of the Am contest plus tons of prizes from K2, Seychelles and BC, Pom Pom Wax, and Nikita steetwear and outerwear. Pros will be competing for cash prizes. At the Nikita Chickita contest you'll be sure to have a relaxed super time and it's all about girls who ride!
Sign ups have already started through the Shred Betties website at this link www.shredbetties.com/site/2010nikitachikita. You can also register onsite from 8:00am to 9:00am on February 20th at the Brighton center, next to the ticket office.  Nikita will be offering free breakfast as well as lift tickets to all participants!
Nikita Chickita USA – for further information please visit the Nikita Website here!
Fuel tv interview Nick Dirks on what he thinks about the Olympics and even after his broken femur heals, he still won't consider training in the pipe.
Skateboarding is nNot in the Olympics, why do you think snowboarding is?

I asked Evan LeFebvre, and he said, "Because they want it to be".
You're a talented enough snowboarder, why not focus on pipe and in 4 years have a chance at worldwide fame?
Because of the possible broken bones. …decking out sucks.
Do you want to be on a Wheaties cereal box, or on the cover of Rolling Stone?

Rolling Stone, more chicks read that.
Do you think Shaun White portrays snowboarding in a way that you like?

I would say no, but do your thing Shuan. Whatevs.
Check out the rest of the interview and some more sick pics HERE.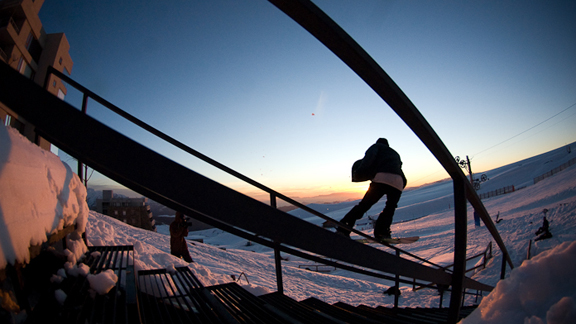 Photo: Colin Wiseman
Check out this interesting interview from ESPN's, Colin Wiseman, interview with our very own Nick Dirks! Here's a little excerpt of the interview to get you going.
You like to get loose sometimes. Any stories?
Before I went to Chile I got pretty loose at the Dick Dale concert. I was with my buddies Max, Graham and Alex, just jamming in the front row and waiting for him to come on.
Right before he comes on, a huge dude gives us the elbow and scoots us out of the way. We were like, "Dude, mellow out. We've been here for two hours." Then it started getting heated and Max, who has super-long hair, started head-banging just to piss him off. Eventually the dude got fed up and pulled a box knife out of the side of his belt and stabbed Max in the arm. I said, "Dude, you stabbed my friend!" and he was like, "No, I didn't," and dipped. So we bandaged up Max and finished the Dick Dale set, he was good.
As we're leaving and skating across Burnside Bridge we see the guy who stabbed him with two other dudes. Max was pretty pissed, so he walks up to the dude, spits on him, and says, 'You stabbed me!' The guy says, 'What are you gonna do, beat us up with your toys?' referring to our skateboards. We were like 'Yeah, whatever it takes, you stabbed him.' And his friend with a mustache says, 'Are you gonna mess with a guy that has a permit to carry a concealed weapon?'
It pissed me off so bad that I socked him right in the eye. Then it broke out in this crazy fight. It ended up them being on the ground, and then the bouncers saw it from across the street, ran over, put their knees into the dudes' chests and throats and said, 'Get out of here, the police are on their way.' We grabbed our boards and went over the bridge and kept going home. The dudes got in trouble and we got away.
It's peanut butter jelly time peanut butter jelly time! So saturday night the Volcom peanut butter and rail jam was held up at Snoqualmie. I went up there to watch the action and judge the event. The set up was insane…flat to up box, up tube to flat box, and a huge flat pipe to down pipe. All under the lights with a slammin soundtrack going all night long. The turnout was sweet! With under 16, over 16, ladies, and open devisions. About halfway through the contest the pb&j sandwiches were unleashed and then the party continued. All in all it was a complete blast and thanks to everyone who helped make it happen! Peanut butter jelly, peanut butter jelly, peanut butter jelly with a baseball bat!
Click the link below to see some photos and read about our recent trip to SIA Denver!
http://houseof1817.blogspot.com/2010/02/sunshine-on-my-god-damn-shoulders-john.html
Sorry if the link isn't working, if not, good old fashion copy and paste is just going to have to do.  Or if you haven't set houseof1817.blogspot.com as your homepage yet, it's probably about time to consider it.
Enjoy!
-Pat