Matt Belzile's No Rookie – by Matt Houghton
It seems like Ottawa-born shredder Matt Belzile graduated from grom to veteran in the blink of an eye. Wasn't it just yesterday when his first am interviews appeared? Reality check: It was in fact five years ago when he moved to Whistler and got hooked up by Westbeach (who he still rides for and also works for). One year later he added K2 to his sponsor list, and began filming with Alterna Films under the mentorship of then teammate and current boss Jon Cartwright.
While Belzile began, he no doubt looked up to top Canadian dogs like Cartwright, but he can now count himself among them. He splits his time between contests and a full-time filming schedule with ease (witness his totally bananas backside 1260s at this year's Shakedown), and somehow manages to be a contributing member of the Westbeach staff; not just a team rider who breezes in and out of product meetings and photo shoots. He's also stepped up to the top video ranks, earning a spot on the Standard Films rider roster this season.
"I've been trying to get into American videos for a while," he explains. "Last season I filmed for Variety Pack's Not Bad, based out of Utah. I had a decent part in it and my American K2 team manager worked some magic and got me on Standard. I was pretty hyped on that!"
The best part about Belzile is that he'll be the last person to tell you these things. Low-key and cool to a fault, he typically seems content to allow his accomplishments (and his avid supporters) speak on his behalf. I ran into him a few times this season, and even did a run or two with him: in the Blackcomb beginner park with Jesse Fox and Robjn Taylor. The fact that he was as stoked to hit some tiny jibs with friends as he was to take down the mighty Shakedown jump says it all.
Click here to read the entire interview: http://www.push.ca/blogs/matthsn/archive/2010/05/07/matt-belzile-s-no-rookie.aspx
Ride along with Chris Beresford and the Think Thank crew for a quick inside look at Chris' brain as they film for the new movie Right Brain Left Brain.
Fuel tv interview Nick Dirks on what he thinks about the Olympics and even after his broken femur heals, he still won't consider training in the pipe.


Skateboarding is nNot in the Olympics, why do you think snowboarding is?

I asked Evan LeFebvre, and he said, "Because they want it to be".
You're a talented enough snowboarder, why not focus on pipe and in 4 years have a chance at worldwide fame?
Because of the possible broken bones. …decking out sucks.
Do you want to be on a Wheaties cereal box, or on the cover of Rolling Stone?

Rolling Stone, more chicks read that.
Do you think Shaun White portrays snowboarding in a way that you like?

I would say no, but do your thing Shuan. Whatevs.



Check out the rest of the interview and some more sick pics HERE.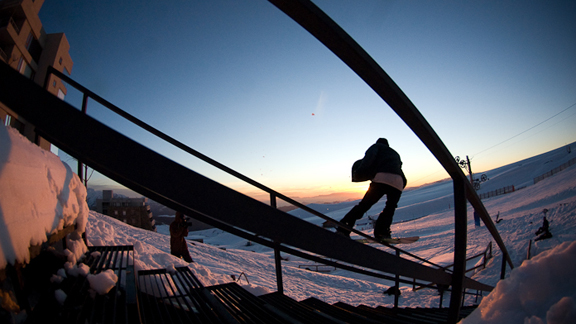 Photo: Colin Wiseman
Check out this interesting interview from ESPN's, Colin Wiseman, interview with our very own Nick Dirks! Here's a little excerpt of the interview to get you going.
You like to get loose sometimes. Any stories?
Before I went to Chile I got pretty loose at the Dick Dale concert. I was with my buddies Max, Graham and Alex, just jamming in the front row and waiting for him to come on.
Right before he comes on, a huge dude gives us the elbow and scoots us out of the way. We were like, "Dude, mellow out. We've been here for two hours." Then it started getting heated and Max, who has super-long hair, started head-banging just to piss him off. Eventually the dude got fed up and pulled a box knife out of the side of his belt and stabbed Max in the arm. I said, "Dude, you stabbed my friend!" and he was like, "No, I didn't," and dipped. So we bandaged up Max and finished the Dick Dale set, he was good.
As we're leaving and skating across Burnside Bridge we see the guy who stabbed him with two other dudes. Max was pretty pissed, so he walks up to the dude, spits on him, and says, 'You stabbed me!' The guy says, 'What are you gonna do, beat us up with your toys?' referring to our skateboards. We were like 'Yeah, whatever it takes, you stabbed him.' And his friend with a mustache says, 'Are you gonna mess with a guy that has a permit to carry a concealed weapon?'
It pissed me off so bad that I socked him right in the eye. Then it broke out in this crazy fight. It ended up them being on the ground, and then the bouncers saw it from across the street, ran over, put their knees into the dudes' chests and throats and said, 'Get out of here, the police are on their way.' We grabbed our boards and went over the bridge and kept going home. The dudes got in trouble and we got away.
http://www.method.tv/player.php?ch=00034&id=2124&aid=2139&player=flash
http://www.method.tv/player.php?ch=00034&id=2126&aid=2141&player=flash
Ola!  I did an online interview with Boardworld Australia. Check 'er out here!
Ciao,
Leanne