This video is looking sick!
Fuel tv interview Nick Dirks on what he thinks about the Olympics and even after his broken femur heals, he still won't consider training in the pipe.
Skateboarding is nNot in the Olympics, why do you think snowboarding is?

I asked Evan LeFebvre, and he said, "Because they want it to be".
You're a talented enough snowboarder, why not focus on pipe and in 4 years have a chance at worldwide fame?
Because of the possible broken bones. …decking out sucks.
Do you want to be on a Wheaties cereal box, or on the cover of Rolling Stone?

Rolling Stone, more chicks read that.
Do you think Shaun White portrays snowboarding in a way that you like?

I would say no, but do your thing Shuan. Whatevs.
Check out the rest of the interview and some more sick pics HERE.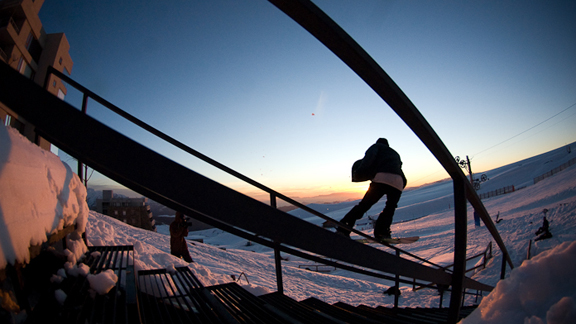 Photo: Colin Wiseman
Check out this interesting interview from ESPN's, Colin Wiseman, interview with our very own Nick Dirks! Here's a little excerpt of the interview to get you going.
You like to get loose sometimes. Any stories?
Before I went to Chile I got pretty loose at the Dick Dale concert. I was with my buddies Max, Graham and Alex, just jamming in the front row and waiting for him to come on.
Right before he comes on, a huge dude gives us the elbow and scoots us out of the way. We were like, "Dude, mellow out. We've been here for two hours." Then it started getting heated and Max, who has super-long hair, started head-banging just to piss him off. Eventually the dude got fed up and pulled a box knife out of the side of his belt and stabbed Max in the arm. I said, "Dude, you stabbed my friend!" and he was like, "No, I didn't," and dipped. So we bandaged up Max and finished the Dick Dale set, he was good.
As we're leaving and skating across Burnside Bridge we see the guy who stabbed him with two other dudes. Max was pretty pissed, so he walks up to the dude, spits on him, and says, 'You stabbed me!' The guy says, 'What are you gonna do, beat us up with your toys?' referring to our skateboards. We were like 'Yeah, whatever it takes, you stabbed him.' And his friend with a mustache says, 'Are you gonna mess with a guy that has a permit to carry a concealed weapon?'
It pissed me off so bad that I socked him right in the eye. Then it broke out in this crazy fight. It ended up them being on the ground, and then the bouncers saw it from across the street, ran over, put their knees into the dudes' chests and throats and said, 'Get out of here, the police are on their way.' We grabbed our boards and went over the bridge and kept going home. The dudes got in trouble and we got away.
If you haven't heard, K2 rider Nick Dirks just broke his femur during the holidays. "I ran into a boulder," Nick said. "Focused my leg, I looked like Gumby." He's been laid up after two surgeries which put a dent in his pocket book (despite his insurance).
YoBeat is helping Nick out by selling some benefit shirts with artwork by Nick himself! Hope you have a speedy recovery and get well soon!
Don't forget to pick up the January issue of Transworld Snowboarding mag which has already hit the stands.  Check out K2 Riders Shaun McKay and Nick Dirks gettin' some!
Shaun McKay in the Whistle Pig Backcountry B.C., Canada
PHOTO: Scott Serfas
Nick Dirks night sessioning in Salt Lake City, Utah
PHOTO: Andy Wright